A top activist tied to one of the most notorious Islamist political organizations co-hosted a re-election fundraiser last month for U.S. Sen. Bill Nelson.
Details about the Florida Democrat's Oct. 22 fundraiser in
Ocala
are sparse—limited mostly to what
Ahmed Bedier
, former Council on American-Islamic Relations (CAIR) Tampa director, posted on his Facebook page. He published a series of pictures under the heading "Hosting Senator Bill Nelson." Those pictures showed Nelson, microphone in hand, addressing supporters as Bedier stood just behind him. The fundraiser was held in the home of a doctor named Manal Fakhoury.
Bedier remains closely tied to CAIR, a group linked to a Hamas-support network by evidence in the federal prosecution of a Texas-based Hamas charity called the Holy Land Foundation. Exhibits showed that
CAIR was created
as an arm of the "Palestine Committee, created to help Hamas
politically and financially
.
That evidence prompted the FBI to
break formal communication
with the group, despite its high profile position as a self-anointed voice of Muslim Americans.
One week before the Nelson fundraiser, Bedier served as master of ceremonies at CAIR's national banquet in Washington, D.C. "I am at the CAIR National Banquet," he wrote in an Oct. 15 Twitter post. "[C]an you make a donation?"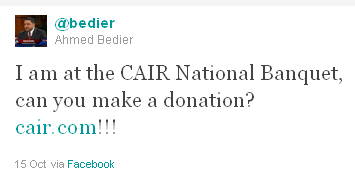 Read More at investigativeproject.org